There was fear in her Eyes, And my heart filled with mixed feelings, coz of her cries let her be well taken care, was only my prayer . All my questions cleared, As her sparkling eyes cheered, And said Ah! it's morning again As I will go to School, with new knowledge to gain. 3 years was such a homely feeling for us. The school has sowed the seeds of Love, knowledge, Culture and best of all values through Shlokas. We are so happy that the whole family is bonded with the School in one or the other way, like Parents craft exhibition, Bandhan, Grand Parents Day. Every festival celebrations in the school deeply root our culture in the kids. It is very well said that happiness cannot be expressed but can be experienced and we are fortunate enough to experience this. We thank the school for all the gains my kid has got, a Principal who is so energetic and caring, all the teachers who made the classroom a home and showed love, care and encouraged my daughter throughout her journey at NHVM. Great !to be part of NHVM
Ramya
Parent of Akshara Arjun
Our experience with VidyaMandir goes beyond words. The inviting infrastructure, particularly tuned to the toddler is the best thing to start with.We, as parents liked and loved their curriculum and the varied co-curricular activities provides a platform for each child to exhibit their potential and build confidence in their abilities.The overall grooming of the child is exemplary here. The school has very highly qualified and trained teachers who not only teach but take utmost care of child.The principal is the right mix of administration and motherly care needed to run such an administration. They have fabulous support staff who take care of kids' special needs. One thing which we liked is the reachability of the teachers. The beauty is, it is ingrained in the process as they have a fixed timing everyday at which parents can call and talk freely about their issues and concerns. The best part about the school was that the kids were eager to go to school and very happy when they came back. Lastly to sum up, our experience with VidyaMandir was an enthralling one which we will cherish for our life and we would highly recommend to all parents.
Rajesh Ranjan and Pallavi Jha
Parents of Soham Jha
We are one of the happiest and proud parents with my daughter's transformation from Nursery to UKG. Like any other child, she did have her bit of challenges with adjusting to school but the support from her teachers has been amazing. They have been very patient with Diya and constantly worked on her to bring out the best. The support continued throughout Nursery, LKG and UKG. The PTM's have really helped to bring the strength and weakness within our child and at times I was really impressed with the minute observations from her teachers. From an average performing child, she has outgrown herself to be a better performing, confident and independent child. Her class teachers have been her strength and everyday she enjoyed going to school. I must definitely thank Diya's Nursery to UKG teachers Swetha, Nayana, VijayaLakshmi and Jyostna. Jyostna and Nayana mam has brought out the best from Diya in UKG with their hard work and attention. I can't thank them enough for their support. They have always been prompt in responding to my diary notes with any feedback/follow-ups. Diya has thoroughly enjoyed their company in school and she is already missing them. One last mention is about the circulars and newsletters posted in NHVM website. The parents are well informed about the events in advance that really gives enough time for kids to be able to prepare and especially for working parents like us. Once again, thanks for all the good times that Diya had at NHVM and for your support.
Veena
Parent of Diya Rallapalli – UKG J
I still remember that day when we had come for a campus tour and we were totally impressed with the colourful paintings , big bright classrooms, clean toilets , beautiful play area, Dance room, Music room, CCTVs and Lord Vigneshwara at the entrance which created a sense of satisfaction that we were sending our daughter to the right place. The Principal, teachers, caretakers aunty's were very friendly and lovable that we felt our daughter will definitely feel comfortable to make her beginning at this school. Daily morning Slokhas and Bhajans are the best part of this school because these mark the day beginning with positive note. It also gives our children with an opportunity worship our values and traditions. CCA competitions in almost every Genre was something we liked as we got to see kids identify their strengths themselves.It has also taught my daughter to handle both victory and loss the same way & that participation matters a lot. These competitions have trained my daughter to face the audience with amazing confidence.We have never faced any issues with the transport and have had a good experience always. Bandhan celebrations and Grandparents Day celebrations were highlights of this school and we had a memorable time with our little one and we will cherish this forever. Sports day March past was like a parade in New Delhi and it was near to perfection. To make the kids walk in sync to the drum beats was remarkable and we definitely appreciate the tremendous efforts teachers and the management have taken. Annual day celebrations were like a TV show. It was really grand and the exposure our daughter has got is remarkable. Festival celebrations were something our daughter thoroughly enjoyed and she used to be thrilled to wear colour dress on that particular day. But the first and foremost purpose of a school is imparting knowledge and educating the children in terms of academics were beyond excellence.We can't thank the school enough and we are absolutely happy about this decision of New horizon for our daughter and awaiting yet another chapter with New Horizon for our second little one who is 1 year old now.
Gayathri Ram
Parent of Samhita from UKG C
As Vihaan is moving to 1st grade after completing his pre-school from New Horizon VidyaMandir, we are glad to say that our pre school experience was wonderful here. From day 1 we could feel the enthusiasm and positiveness in the school environment. All the teachers and staff are very nice and always helpful and supportive. Every kid is unique and is treated so in the school. Every kid is given attention. The Bandhan program was a perfect platform to strengthen the parent child bond. It was a great experience to share the stage with my son. The management for annual day and sports day was too good. All the kids got a chance to showcase their talents. All the teachers took a lot of effort for preparation. They made the sports day and annual day perfect. Both the events were very well organised. We would also want to mention specially about his class teachers Ms.Sudha ma'am and Ms. Mona ma'am who were always encouraging and supportive to Vihaan. He loves his school and teachers. We would like to thank the school for all their efforts to make the preschool memorable for our son Vihaan.
Vikas Mastud and Nisha Mastud
Parents of Vihaan Mastud - UKG-I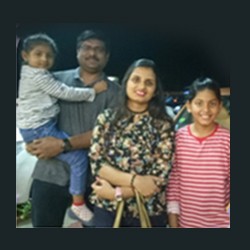 It was a pleasing experience at Nhvm for us, in terms of academics, infrastructure, experienced teachers, safety, Transport, co curricular activities etc.I am very happy to see my kid maturing each day both personally and academically.Thanks to everyone at Nhvm, especially Principal mam and her teachers.
Anita
Parent of Anishka Manivannan UKG B
Our journey with New Horizon Vidya Mandir started in June 2015 when our son Rishi Joshi joined Nursery here as his first step in formal schooling. Since then, we have proudly observed Rishi evolve from a shy yet enthusiastic learner to a more confident and curious child and now a sincere and sensible kindergarten graduate. All along this association with NHVM, we have collected cherished and everlasting memories of all the beautiful and colourful occasions that we were a part of — The Bandhan show, Annual day, Sports day, Art and craft exhibition, CCAs, and PTMs. Today, as we prepare for Rishi's primary education we feel indebted and thankful to the NHVM Principal Ma'am, all the wonderful teachers and all support staff for their untiring support, love, encouragement and contribution to Rishi's growth and development.Rishi and we are really going to miss all of you at NHVM, our vibrant NHVM campus and our enjoyable kindergarten routine.Values of compassion, discipline and diligence that Rishi's Alma mater has instilled in him is sure to hold him in good stead in his future.We wish NHVM all the very best and we sincerely hope our paths cross again.
Neha and Vishal Joshi
Parents of Rishi
We would like to express our gratitude and thanks to all the teachers, staff and management and the Principal Maam of New Horizon VidyaMandir in providing a comfortable and loving environment for the kids to study and learn. My daughter Rijuta will be moving from New Horizon VidyaMandir and will be graduating to Grade I in New Horizon Gurukul. My family will miss the platform and the fun activities which are laid down for kindergarten kids. Both my kids have studied in New Horizon VidyaMandir and the facilities, activities the quality of the teachers and the methodology adopted for teaching such small kids is unmatched. Both my kids have enjoyed coming to school and never wanted to miss a single day. To name a few teachers like Kanchan Maam, Jayanti Maam, Kartika Maam, Anu Maam, Srividya Maam,Priya Maam and Dhanya Maam are some of the best teachers that my kids have been blessed to learn from. My kids still remember all of them. Rijuta has been lucky to get such a nice school and such loving and caring teachers. The best part of the school is the events that the school organizes which involves parents and grandparents. This helps in bringing our family close to each other and strengthens the bond between us. I have been really honoured to have been invited by Principal Maam for 3 years in a row to present classical dance form Kathak in the "Bandhan Event". I would like to thank from the bottom of my heart for giving parents also a platform to showcase their talent alongside their kids. Thank you so much Principal Maam and I will surely miss the "Bandhan Event".Not to forget the Sports Day and Annual Day events organized by the school every year, the amount of hard work, time and energy put in by the teachers and staff is just commendable. It brings tears to my eyes out of joy to see my kids standing boldly on stage or on the running track and participating and performing with confidence. It has been a wonderful journey for Rijuta from Nursery to UKG and she has been nurtured into a confident, smiling and holding on to the values of Indian Society child. We would like to express our thanks once again to the entire school and to Principal Maam for all their efforts and hard work towards the school and the kids in making them a better-learned child.
Ruchi
Parent of Rijuta
It has been a privilege and we feel fortunate to be a part of the NHVM Family. Atmosphere@NHVM: We must mention that NHVM seeds a lot of values and culture in a child's thinking and we feel proud that our 2 kids started their education at NHVM and they learned so much from here. The school atmosphere and environment is very positive and NHVM offers an open and creative method of learning for its students. The classrooms which are themed on religious stories, nicely present basic learning, behaviour and a natural healthy atmosphere which silently aids so much in a child's education and overall development. Events@NHVM: I have always been appreciative that NHVM promotes all festivals with lot devotion and involves children in celebration activities. I love to hear from my child that "We celebrated Onam today", "We celebrated Holi with colors", "We had Christmas celebration". The amount of efforts put behind every NHVM event preparation stands apart and all the events are carefully thought out and prepared. The great enthusiasm and Joyful atmosphere during the events is a symbol of the school's culture. Teachers@NHVM have been key factors in the progress of my children. Small appreciation by teachers to students is so encouraging. All the fun activities in the class are truly useful. Teachers provide timely feedback to parents on the child's progress and also work on the gaps observed. Their dedication and focus on children's overall discipline means so much. We must admire their enthusiasm in preparing for events and also paying attention to the child's needs during such programs. Thank you for an incredible journey!!!
Tanu Bhatia and Sandeep Bhatia
Parents of Yahvi Bhatia - UKG-G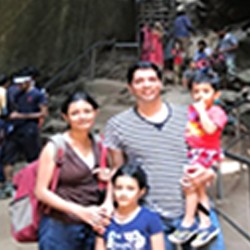 Apeksha has made some wonderful memories in New Horizon VidyaMandir. Be it Annual Day practice, Colours Day celebrations, Sports Day or Grandparents Day, she has enjoyed it all. Thanks to the teachers, Usha mam and Archana mam in LKG, and Michelle mam and Mahua mam in UKG, she always looked forward to school. She has made some good friends here. The school has facilitated overall development of her personality. Stressing on Indian culture and traditions, she has learnt the importance of celebrating various festivals. Her grandparents are very impressed by her knowledge of Shlokas and Bhajans. We enjoyed being a part of Annual Day and Sports Day. Thanks to NHVM for a memorable stint in her early education.
Prashant and Divya
Parents of Apeksha
When we decided to move Bangalore in March 2017, the top priority was Abeer's school and we were a bit apprehensive if he would adjust to the new school, teachers and overall environment given that we were moving mid-session and from the comfort of our own state where language was not a barrier. We selected New Horizon Vidya Mandir based on a friend's suggestion and convenience of commutation. Thanks to Jyotsna and Nayana Ma'am, who made Abeer comfortable in a new environment and were very attentive towards his overall development which ensured that he always looked forward to attending school and him not missing a single day in the 2nd session is a testament of his liking of the school & teachers. The school has provided essential comfort and made the entire learning process fun for him. This helped Abeer to improve not just academically but at an overall level which I am sure will make him adaptable, resilient and worldly wise. Today, at the end of session we are so happy that we made the right decision to select NHVM as Abeer's school and we would also recommend this school to other friends and families.
Parent Speak
Parents of Abeer
I always felt and believed that a school is a second home and teachers are second parents to kids and contribute equally in moulding/shaping a child. Our experience with NHVM is as old as NHVM itself and we are fortunate beginners of this excellent institution. Teachers in each class have contributed in making some or the other positive mark on our kids.We were shaky and nervous when we admitted our son,Chirag in 2010 as his was the inaugural Nursery batch. But when we look back we are extremely satisfied and confidently admitted Sukriti, our daughter, in 2013. Now Chirag is in 5th standard and Sukriti is in 2nd Standard, they are doing very well and we all are extremely satisfied with New Horizon.Seeing Chirag, many parents in our apartment and society got interested in NHVM and admitted theirs kids. I would say this is a great testimonial of Impact. If Chirag and Sukriti go anywhere and if anyone praises them for their behavior, knowledge, Indian culture awareness and sincerity it is NHVM who is responsible and we want to thank each and everyone involved. The love and affection of UshaVasudevan (Principal Mam) to care and the sincerity of each and every teacher is commendable. I have never seen Usha Mam tensed and she always carries a smile and fulfils all her responsibilities which has an impact on kids as they learn from this. For us, the school and teachers played key role beyond their duties when we needed it the most. In the case of our kids, it became very evident due to recent events in our life. I would like to take this opportunity to describe our experience. Chirag was suffering from Beta Thalassemia major from birth and needed regular blood transfusion every 3 weeks and by God's grace we found 100% DNA match in Germany by doing a global search. We decided to go for Bone Marrow Transplant in December 2016. BMT has its own risks. We had gone to meet his teachers and take their blessings for Chirag. In NHVM we went and met Michelle Ma'am and Viji Ma'am as these two teachers made a big impact on Chirag and what followed is a lifetime experience. Michelle Ma'am became a pillar and strong support in our last year's very important and difficult journey. From day one of the BMT procedure till date, she stood like a rock with Chirag and eventually they became very close friends and share each day with each other. It's still fresh in my mind that during BMT whenever Chirag used to feel low, Michelle Ma'am used to talk to him and we would see a broad smile on his face even though he was in pain with almost zero energy. This was a great Moral support for us too. It's hard to find a teacher and human being of this grade and NHVM is playing its role to retain and enhance such quality teachers. They say "गुरु देवो भव:" and I experienced in reality a teacher who acted as a role model and performed duties beyond her role. Special thanks to this exemplary teacher. She hold a special place in our life. Chirag is back to normal life because of all the prayers and blessings that we received at New Horizon and New Horizon Gurukul supported us exceptionally to bring back Chirag to a normal life and schooling. Special thanks to Sheela Mam, InduMam, Akansha Mam and Parul Mam and all present subject teachers. Each and every teacher in NHVM has made a great mark on Chirag and Sukriti and I would like to take opportunity to thanks them: Chirag: Vrinda Mam (Nursery), Mitchelle Mam and Suchi Mam (LKG) and Viji Mam and Sonali Mam (UKG) Sukriti: Dhanya Mam (Nursery), Gurpreet Mam and Kartika Mam (LKG) and Mitchelle Mam and Divya Mam (UKG).
Vikash Chandra and Rashmi Chandra
Parents of Chirag and Sukriti
With mixed emotions we are writing this letter; as we are happy that we are moving from pre-primary to primary schooling for Dhimant, at the same time we are going to miss New Horizon VidyaMandir, teachers and all facilities.Firstly, thanks a lot to the principal for all her support to take care of Dhimant's medical requirements. Initially we were so worried how to take care of Dhimant in school; because of your support, it was seamless and a smooth journey for us these last two years in NHVM. Now, we are confident to take him to NHG. Also, thanks for providing us facility to pick him up early and many thanks to teachers to drop him personally for pickups. Special Thanks to in-house School Nurse for helping us monitor Dhimant's blood sugar level. Teachers are very supportive, co-operative and helpful to take care of Dhimant with all the instructions we used to send through the dairy.For last two years, there have been a lot of improvements in Dhimant academically as well as in extra-curricular activities. He likes all the competitions held in the school and wanted to participate in all. Thanks to teachers for all your support to provide this strong pre-schooling foundation. Also, academics provided in school is superb and makes him learn things faster. Now, he writes and speaks confidently. Teacher's innovative teaching techniques have made Dhimant think innovatively and makes him relate his learnings to real world situations and scenarios.Dhimant loves to dance, he never wants to miss his annual day rehearsals. Wow!!! what a show New Horizon VidyaMandir put up for Annual day. It was really a stunning awesome show. We are really going to miss NHVM annual day events. Thanks a lot teachers for all your suggestions and feedback which helped us to make sure Dhimant is attentive in the class and follows your instructions.Overall, We want to thank everyone in New Horizon VidyaMandir School who made our initial school experience smooth and seamless and providing us all the support which gave a strong foundation and confidence to manage Dhimant's academics and health together.Thanks a ton to Principal Usha Ma'am.Special Thanks to all Dhimant's teachers – SupriyaMa'm, SukanyaMa'm, Rani Ma'm, RachanaMa'm and Babitha Ma'am. Many thanks to all helper aunties and security guards.
Divya and Darshan
Parents of Dhimant's UKG-C
We take this opportunity to write on the journey of my daughter in New Horizon Vidya Mandir foral most 2 years right from LKG. My daughter has truly blossomed over the past two years academically and socially. The learning was not bound to the classroom makes us very happy which was very helpful for my daughter to relate things in her surroundings and she started enjoying it. She is always eager to go to school and has a wonderful relationship with her teachers. The Principal and teachers make themselves very accessible and very supportive. We have recommended this school to friends and continue to be very happy to have our daughter attend school here. We would like to thank NHVM Principal, teachers and entire staff for their wonderful support.
Sunil Shripad and Priyanka Shripad
Parents of Rashi Shripad (UKG-J)
Jai has been with NHVM for 3 years, and he loves school very much. The all around care and atmosphere of trust has made Jai a very confident kid. Great teachers are the pillars of a school. And the quality of teachers is reflected in every interaction. They tell you in detail how the kid is performing and which are the areas that need help (if any). NHVM has a great balance of extra curricular activities, field visit, sport and school events, in which every one participates (including parents) which is great fun. Jai enjoys all the activities in the school, and feels bored on weekends (misses his class and friends). The teachers are super helpful and have great communication. I have seen how nicely Jai grasped the vocabulary, concepts and teamwork. The values that kids have learnt in school with Shlokas/Bhajans/Stories is commendable and highly appreciated. Thank you so much to the teachers and the entire administration for a great learning environment.
Parent Speak
Parent of Jai
It just seems yesterday when we were looking for a school for our son, and now without a second thought we are very glad that we opted for New Horizon Vidya Mandir. We would like to express our gratitude and sincere thanks to Principal Ma'am for providing us the most memorable and enriching three years of our life. Pre-school sets foundation for kids for the next steps of their education. NHVM's unique approach of combining different teaching methodologies – Play way and Montessori with role-plays, field trips etc. has helped our kid in developing new concepts in a fun way. NHVM also pays equal attention to extra-curricular activities be it sports, music, imparting values through Value Education. That's why our son is always excited to go to school and it's not strange that during this lockdown he insisted in going back to NHVM. Not all these were possible without the attention to detail from the loving and caring teachers and staff members. We would like to thank his teacher's Sharmila Ma'am, Supriya Ma'am, Harsha Ma'am at UKG making his final year at NHVM the remarkable one. Their continuous mentoring not only helped in bringing out the best of our kid's out but also to us as a parent. We cherish all the remarkable moments be it the Sports Day, Annual Day or the Carnival fest and wish we could stop the time just as it. However E.A. Bucchianeri, has rightly said "The most beautiful moments always seemed to accelerate and slip beyond one's grasp just when you want to hold onto them for as long as possible."We wish NHVM more successful years ahead and hope they continue building a strong foundation for the little ones to prepare for the future
Sanghamitra and Chandan
Parents of VrishankNath – UKG B
When Tvisha first stepped into the NHVM campus, she was so excited that she refused to visit any other school. The crafts and drawings by kids hanging around, music and dance rooms, play area, theatre room everything was perfect. And although she was in Vidya Mandir for just a year (UKG) it felt as if she was always in this school. The attitude of her teachers has been overwhelming and the regular feedback have nothing but helped her improve each day. The transport members are also very responsible and patient with kids. We are grateful to them for taking care of our child during commuting hours. The MaRRs activities are an added advantage to better young kids on vocabulary, general knowledge and instil the quench to learn outside the syllabus and help in the overall development of the kids. We as parents are thankful and respect each and every member of the school for contributing towards our child's education and overall development that has been a strong foundation to her future. Also we are happy to continue to be part of the New Horizon family, as our child would be moving to higher grades at New Horizon Gurukul."
Parent Speak
Parent of Tvisha
"The journey with New Horizon Vidya Mandir is unforgettable right from the day one where it started with a humble welcome by the principal and the staff members. Our son was also pleasantly surprised and felt very comfortable in the new location when he started his first day of the school life. Since then and almost everyday, we kept on hearing his narration of the incidents from the school.Without any doubt, we could understand that he is well connected with the school and had a good network of friends and teachers (whom he still considers as another set of friends).As parents, we also enjoyed the schooling of our kid through various interactions with the teachers and also the other parents – thanks to the PTMs, casual/informal discussions and the parent volunteering events that brought us together. At par with the education standards, also stood the co-curricular activities that were well organized and I would say the boosters for the children's social growth.It was amazing to see the children performing in the stage or the ground with great discipline, focus, dedication, sportiveness, fun and excellence.Overall, we are greatly satisfied with the institution and our kid's performance in various aspects.Kudos to the team and wish all the best for bringing up more budding talents and responsible humans."
Sudhakaran and Saranya
Parents of Kavin Sudhakaran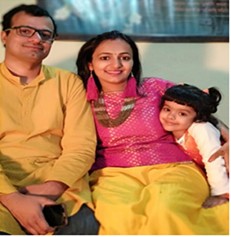 My daughter's journey from Nursery to UKG @NHVM was one of the most memorable since her birth. With continuous hard work of teachers and the Principal, Namasvi has made significant progress in her learning journey. NHVM's curriculum provides overall child development, exposing children to different activities and competitions which include singing, dancing, story-telling, and numerous other extra-curricular participations, thereby better preparing them for future ahead. Nostalgia pours in when we talk about their Annual Day function, which is one of the best grand scale events. We thank everyone, from the teachers to the Principal to support staff, for their dedication and making us proud to be part of NHVM community.
Abhishek, Monika
Parent of Namasvi Gupta
Thank you for the opportunity to share our views and happiness with you as part of the parent speak for the academic year 2019-2020.Both my kids have been students of NHVM – Advaith was part of the first batch of students when the school moved to the new campus. Seeing the grooming of Advaith and the stable, composed kid that he is growing up to be, we enrolled Akshadha in NHVM for her LKG session in 2018. Time flew past like a whiff. It is about time Akshadha is graduating from NHVM to being a student of NHG this coming year. We saw the transition of Akshadha from being an introvert with strangers persona to a much more assertive and confident personality now. All credits to the friendly, encouraging and supportive teachers of the school. The day starts on a positive excitement as to "what I am going to know new today". Feel so proud to see her trying to show interest in mythological stories and being grounded to values inherent of our Indian culture. Environmental awareness about not using plastics and eating healthy has been etched in her mind so strongly which I am sure she will carry on in her life. I would like to credit NHVM for bringing about a change in us through the values taught and practiced among the students. Thank you for all the energy and efforts you spent on my children who are growing up to be responsible human beings!
Parent Speak
Parent of Advaith and Akshadha